Computer Graphics (MTA) Fall 04, Wednesday , room 103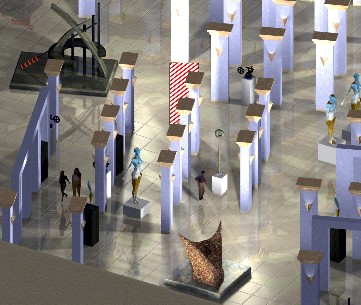 The course covers fundamental algorithms in computer graphics: Raster Graphics, Half Toning, Scan Conversion, Affine Transformations, Projections, Filling and Flooding, Clipping, 3D Representations, Hidden Surface Removal, Shading, Curves and Parametric Surfaces, Ray Tracing, Texture Mapping, Ray Tracing, Radiosity, Solid Modeling and more. There are course notes for most of the classes available in word format and the slides in dpf. If you are following this course and want to discuss its content, please don't hesitate to send me email (dcor@ tau.ac.il) and/or come and talk to me (Office 216).
Requirements: Final test (60%), Projects (40%)
Textbooks (copies can be found in the library):
Advanced Animation and Rendering Techniques, Watt and Watt, Addison-Wesley

Introduction to Computer Graphics, Folley, Van Dan, Feiner, Hughes, and Phillips, Addison-Wesley

3D Computer Graphics, Watt, Addison-Wesley

Real-Time Rendering, Akenine-moller and Haines, AK Peters
Exercises and Open-GL : At Shuly 's home page

Two Examples of old exams (example1, example2) Yet, one more example.